Tasting Notes
It is characterized by a pale straw yellow colour with greenish reflexes.
Fresh nose, with the floral aromas typical of citrus and white flowers.
Fine and persistent bubbles, aromatic structure typical of Arneis, followed by sweet taste at the palate.
Pleasant with fruit pies, mousses, and creams.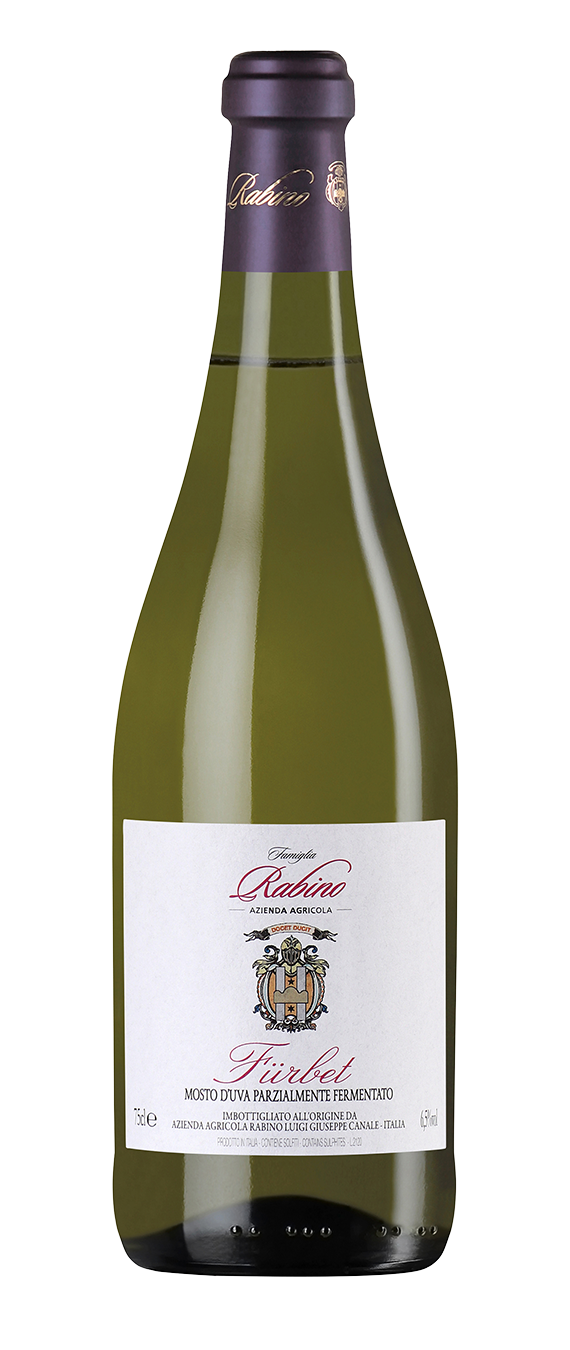 Furbet
This wine is made from arneis grapes, the most typical variety of Roero.
Its seems to have origin just in the Municipality of Canale, since the name Arneis derives from the alteration of the place name Renesio, Renexi, one of the most picturesque hills of this territory.
The name Arneis in our dialect also means a grouchy and naughty person.
The history of this variety is uncertain, but we know that already in 17th century the winemakers planted some stocks of this variety in the rows of Nebbiolo so that the birds could peck its juicy and sweet berries instead of the more valuable red grapes.
In 20th century, Arneis was vinified as a sweet wine. Our grandfather told us that during World War II our wine estate produced and filtered 40-45 "brente" (equivalent to 50 litres each) of Arneis.
Later on, in the 60s some brave wine-makers thought that they could make the best of the potentiality of this variety creating another type of wine, so they started producing it as a dry wine, with the same method used for champagne, and, in a short time, they could obtain a top quality product.
Since 1979, our wine estate has been producing a Spumante from Arneis variety, obtained from selected grapes of the best vineyards.
In fact, the hills chosen for this production are those with the best exposure ensuring optimal ripening, colours of the grapes from green to golden tones, and intense aroma.
The hills are Bricco Novara, stretching around the buildings of our wine estate, Val Capun, Ca' di Carli, and Bricco Renesio, that in 2015 was included in the zone belonging to the UNESCO World Heritage.
Thanks to its intense scent originated from the aromatic notes and its richness in body and good structure, Arneis is regarded as the King of the whites of Piedmont.
It differs from other whites thanks to its long life, in fact, it is ready to be put on the market already in the spring following the harvest but it can maintain its characteristics for some years after the bottling.
Basic Information
Product name: Furbet
Cépage: –
Appellation: –
Classification: –
Color: white
Type: sweet
Country/Region: Canale, CN, Piemonte
Vintage: 2019
Alcool percentage: 6.5%
Sugar rate: 70g
Number of bottles produced: 2,000
Winemaking
Method: after the harvest, the grapes are de-stemmed and pressed. Subsequently the clear must makes the fermentation in autoclave with selected yeasts, and it is blocked to the attainment of the desired alcohol (6.5%)
Temperature: 15 °C temperature-controlled
Lenght: 10 days
Minimum aging in bottle: 2 / 3 months
Vineyard
% of Grape/Cépage: 100% Arneis
Soil: medium mixture
Exposure:southeast
Agricultural method: eco friendly
Year of plantation: 1989
Date of harvest: early September
Type of harvest: manual in boxes
Chemical Analysis
Dry extract [g/l]: 25
Total acidity [g/l of tartaric acid equivalent]: 5
Volatile acidity [g/l acetic acid equivalent]: 0.3
Total SO2[mg/l]: 80
Free SO2[mg/l]: –
Packaging
Number of bottles per box: 6
Box size: length 24, width 16, height 30
Bottle
Empty bottle weight: 450 g
Aging potential: 1 year
Cork size: 24×44 mm
Cork material: turacciolo Normacorc, derived from sustainable, renewable sugarcane-based raw materials
Bottle type: Bordolese
Curiosities
Thanks to its aromatic components, the variety Arneis gives also an excellent dessert wine: we call it Furbet.
"Furbet", cunning, smart in the dialect of Piedmont, suggests a lively and effervescent character.