Tasting Notes
In the glass, we will have an exceptional wine showing a valuable ruby red colour and much brightness.
In the nose, it expresses intensity of bouquet offering a chain of emotions: raspberries and wild blackberries, from spices, such as cinnamon and vanilla, to the most valuable woods.
The flavours enhance the correct balance between alcohol and tannins, perceived in its magnificent notes of the sweet and noble tannins giving the wine an aromatic and long finish.
It is a pleasant match with important recipes of red meat, shank and braised veal, and game of all sorts.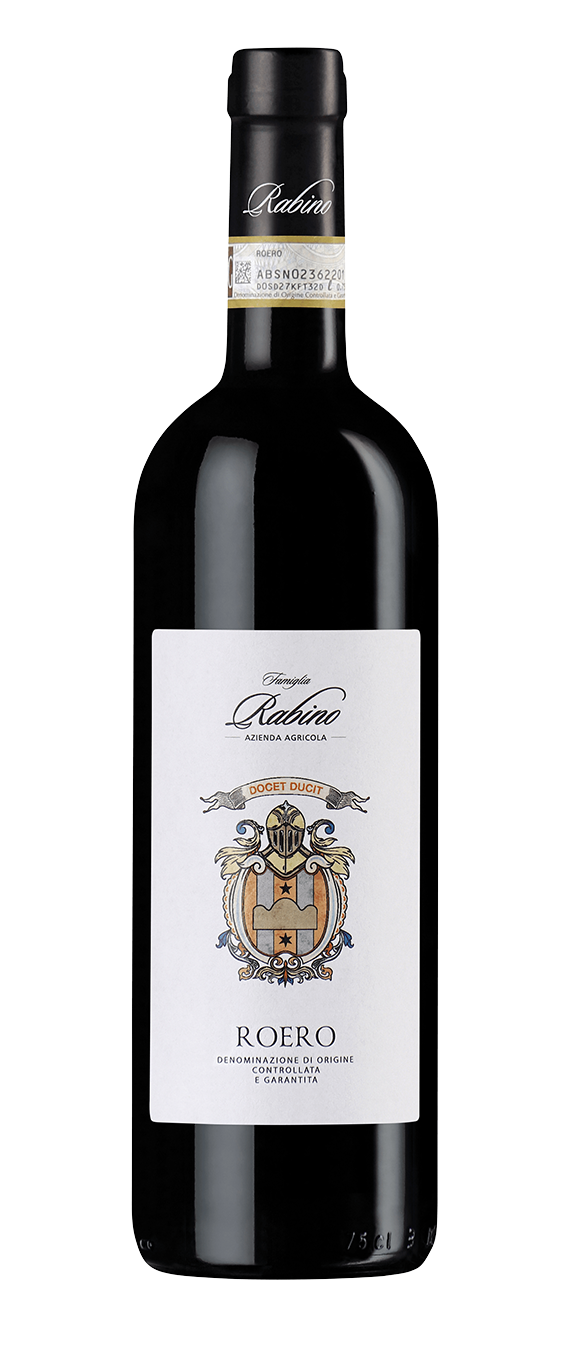 Roero DOCG
Nebbiolo is the most famous grape variety of Piedmont, known all over the world.
Nebbiolo is the father of three extraordinary wines: Roero, Barbaresco, and Barolo.
The name derives from "nebbia" (fog), because the grapes are harvested when the first autumn fogs appear.
The grapes have the typical deep violet colour, reminding of the colour of the plums.
Basic Information
Product name: Roero DOCG
Cépage: Nebbiolo
Appellation: Roero
Classification: DOCG
Color: red
Type: still
Country/Region: Canale, CN, Piemonte
Vintage: 2017
Alcool percentage: 13%
Sugar rate: 0
Number of bottles produced: 2,000
Winemaking
Method: after a careful harvest, that, according to the natural rhythms, is made mid-October, the must ferments in steel vats 8 days evolving with a wise use of pumping-over and délestage, i.e. the cap-breaking. After the fermentation, the wine, still fresh and young, is poured into barrels of French oak where it ages for two years
Temperature: 27° temperature-controlled
Lenght: 25 days
Malolactic: yes
Aging:in wood
Age of barrels: 10 years
Wood type: allier French oak
Barrels type: big barrel
Level of toast: medium
Aging time in wood: 24 months
Minimum aging in bottle: 1 year
Vineyard
% of Grape/Cépage: 100% Nebbiolo
Soil: medium mixture
Exposure: southwest
Agricultural method: eco friendly
Year of plantation: 1979
Date of harvest: end of September / early October
Type of harvest: manual in boxes
Chemical Analysis
Dry extract: 28 g/l
Total acidity: 5 g/l of tartaric acid equivalent
Volatile acidity: 0.6 g/l acetic acid equivalent
Total SO2: 60 mg/l
Free SO2: –
Packaging
Number of bottles per box: 6
Box size: length 24, width 16, height 30
Bottle
Empty bottle weight: 450 g
Aging potential: 10 years
Cork size: 24×44 mm
Cork material: turacciolo Normacorc, derived from sustainable, renewable sugarcane-based raw materials
Bottle type: Bordolese
Curiosities
The king of the reds, his majesty comes from our best slopes with South-West exposure, where the vineyards are sun kissed all day long, in fact our ancestors called this hill "souri", i.e. "accompanied by the sun all day long".
Thanks to the clayish-sandy soil and the old age of the vineyard, our Nebbiolo grapes grow without giving high yields, yet supplying grapes with high sugar degree and, therefore, a wine with the proper characteristics for the ageing in oak barrels.